Gil Shaham Brings Multimedia Bach Collaboration to Three Cities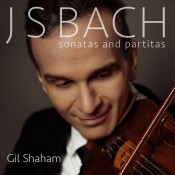 Gil Shaham continues touring key North American venues with accounts of Bach's complete unaccompanied sonatas and partitas in a special multimedia collaboration with award-winning visual artist David Michalek. Gil's "simply electrifying" (Cleveland Plain Dealer) interpretations are presented this fall at Chapel Hill's Carolina Performing Arts on October 20, Carnegie Hall on October 25, and the Celebrity Series of Boston on November 1. These performances are accompanied by original video art from Michalek, whose other work includes Slow Dancing and Portraits in Dramatic Time, both multichannel, mammoth-scale video installations that create a striking visual landscape and invites listeners into a deeper state of contemplative focus. Watch an excerpt of Michalek's video accompaniment to Bach here.
After decades of private practice as well as scholarly inquiry, Gil's interpretation of Bach's complete Sonatas and Partitas for Unaccompanied Violin was released on Canary Classics in March 2015. Learn more at Spotify, iTunes, and Amazon.