GIL SHAHAM IS "FLAWLESS" IN SOLO BACH PERFORMANCES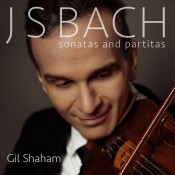 Audiences and critics all over the world have been amazed by Gil Shaham's innovative interpretations of J.S. Bach's Sonatas and Partitas for solo violin. Between Gil's live performances of the works and his new recording on Canary Classics, listeners have
been moved to revisit their expectations of these well-loved pieces.
"It was like witnessing a new chapter in violin history," said a review from Violinist.com. "Shaham turned these familiar works
on their head. Most violinists make concessions in Bach, based on the constraints of technique, but Shaham has reached a level
of mastery with these pieces that allowed for a great deal of experimentation… he went for a wholesale re-thinking of speed, from
the setting of basic tempos to the fitting of embellishments into impossibly tiny spaces of time."
Other media highlights include:
"Shaham likes the way Bach's dance music swings with the slightly faster tempos… Musically I have been finding a lot to enjoy and admire in these performances."
– BBC Radio

"Shaham's playing sparkles with vitality and astonishes with its technical brilliance."
– BBC Music Magazine

"Violinist Gil Shaham has taken up Baroque-style bow and gut strings, but this is no typical period style. Long years of playing Bach's six great solo works for violin have led Shaham to a personal and free way of playing."
– The Financial Times

"Shaham's playing is so clean, clear and precise, and the thought behind everything he plays so unassailable, that to listen to it is to feel safe with music …it is impossible to listen to it without having a positive artistic experience."
– Gramophone
"His technique is flawless. He has a particular gift for ending each movement: thoughtful, and in apt conclusion as to what has gone before."
– The Observer