Kicking off Summer with an Asian Tour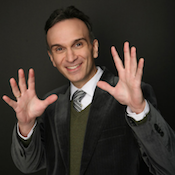 Gil Shaham begins his summer 2016 season with a series of chamber, orchestral, and solo performances across Asia. He first joins frequent tour partner the Sejong Soloists for performances of Vivaldi's Four Seasons in three Korean cities, beginning with Daegu Concert House on June 27 followed by the Light of Life Chapel in Gapyeong on June 28 and the Seoul Arts Center on July 2. During his time in Asia, Gil also continues his multi-season tour of J.S. Bach's complete sonatas and partitas for solo violin in a multimedia collaboration featuring original video art by David Michalek, with stops at the Taiwan National Performing Arts Center on June 30 and Shanghai Symphony Orchestra Hall on July 4.
Gil appears with the Singapore Symphony Orchestra on July 7, performing Mendelssohn's Violin Concerto under the baton of Lan Shui. Watch Gil's recent performance of this work with the ensemble on Medici.tv. Drawing his tour to a close, Gil joins the New York Philharmonic and Alan Gilbert in Shanghai on July 8 for an account of Tchaikovsky's Violin Concerto.