Opening 2016 with Concerto Performances in Asia, Europe, and the United States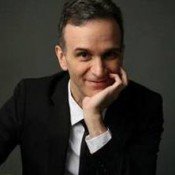 To begin the new year, Gil Shaham joins the Israel Philharmonic Orchestra and Zubin Mehta for two performances of the Tchaikovsky Violin Concerto in Xi'an, China on January 2 and 3. He also brings the Tchaikovsky to Miami's New World Symphony on January 9 under Cristian Macelaru.
Gil plays Barber's Violin Concerto with two orchestras in January: in Rome with the Orchestra dell'Accademia Nazionale di Santa Cecilia and Antonio Pappano on January 16, 18 and 19, followed by concerts with the Orchestre National de Lyon on January 28 and 30, conducted by Leonard Slatkin. He starts February with a trip to the Orchestre de Paris for the Brahms Violin Concerto under David Zinman.